PRIZES
ENTRIES CLOSED. RESULTS ANNOUNCED DECEMBER 2021.
Winners and runners up will share in a prize pool of over $14,000 including $4,000 cash. Some of the prizes on offer from our amazing sponsors include: two Nokia smartphones (we'll announce the new model when they're released later in the year); a three-day walking tour of Tasmania's Three Capes for two people with Life's an Adventure (valued at $5,000); an overnight Milford Sound Escape for one person with Active Adventures ($2,899); and a free team registration for Oxfam Trailwalker in Sydney, Melbourne, Brisbane or Adelaide ($796). Check below for more details.

Further, the Top 20 images in each category will be published in Great Walks magazine (December-January 2022 issue) and on www.greatwalks.com.au.


______________________________________________________________________________
PEOPLE | SPONSORED BY    AND 
WINNER
• Nokia smartphone bundle valued at over $850. (Smartphone model will be announced later in 2021.)

• Active Aventures Milford Sound Escape for one person, starting and finishing Queenstown, NZ: Join Active Adventures for two days in beautiful Milford Sound, New Zealand. Marvel in the place that Rudyard Kipling described as the "8th wonder of the world". You'll join a cruise on the deep, dark waters and spend the night at beautiful Milford Sound Lodge. For a closer look at Milford sound you'll take a sea-kayak 14 kms along the of the fiord, and hike a section of the famous Routeburn Track. (Prize includes $1000 towards flights and accommodation). Valued at $2,899.
• $1,000 cash.

RUNNER-UP
• $500 cash 
______________________________________________________________________________
PLACES | SPONSORED BY    AND 
WINNER
• Nokia smartphone bundle valued at over $850. (Smartphone model will be announced later in 2021.)
• Oxfam Trailwalker team registration: The winner of this prize will get a free team registration to the Oxfam Trailwalker 2022 event. Each year, in an effort to raise money for the Oxfam charity, as well as form lifelong friendships and defy physical odds, teams of four are challenged to walk 100km through the bush within a 48-hour period. Prize valued at $796 (team registration fee).
More info: trailwalker.oxfam.org.au

• $2000 cash.

RUNNER-UP
• $500 cash.
 ______________________________________________________________________________
OVERALL WINNER

| SPONSORED BY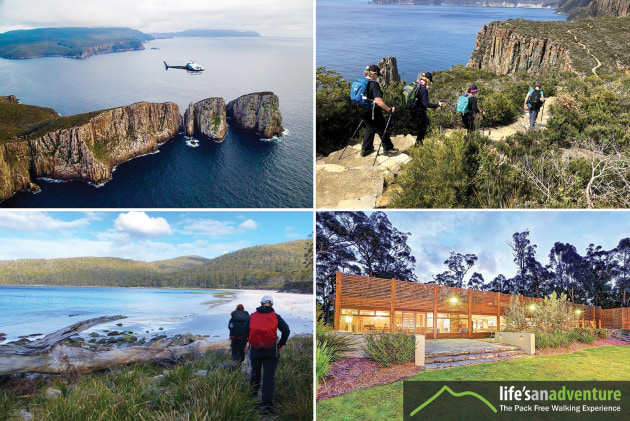 WINNER
Three Capes, Tasmania, pack-free walk for two with Life's an Adventure: During this 3-day guided walk you will explore the natural beauty of the Tasman Peninsula in the south-east corner of Tasmania, a region famous for its spectacular capes, high vertical sea cliffs, dramatic coastlines, caves and towering sea stacks. Stay in a deluxe spa chalet at Stewart Bay Lodge as you take in the amazing scenery, sample local produce and wines. To finish your Tasmanian journey, you can choose to experience either a helicopter flight or a cruise around Cape Pillar. Prize includes return flights to Hobart from the nearest Australian capital city airport. Valued at $5,000.
MAJOR SPONSOR


CATEGORY SPONSORS