Larapinta Trail makes the perfect winter escape!
In our three-part special we show you how to experience the drama and grandeur of the Red Centre's Larapinta Trail when you only have a day or three to explore it.
Couple walking at Mount Sonder Lookout. Tourism NT/Salty Aura
For the Western Arrernte people, the country of 'Tjoritja', where the Larapinta Trail snakes her way west from Alice Springs, is sacred.
Their Dreamtime stories of ancestral beings moving through the landscape creating the ranges have strong links to the present-day people. We are so lucky to share it; brilliant red streaks of spiked rock, ghost gums blinding bright, lush pockets of green, and views unfurl before you like a watercolour painting.
For those who want a taste for themselves but can't fit in a thru-hike, we've got you. Here are two day trips that will showcase some fine parts of the walk.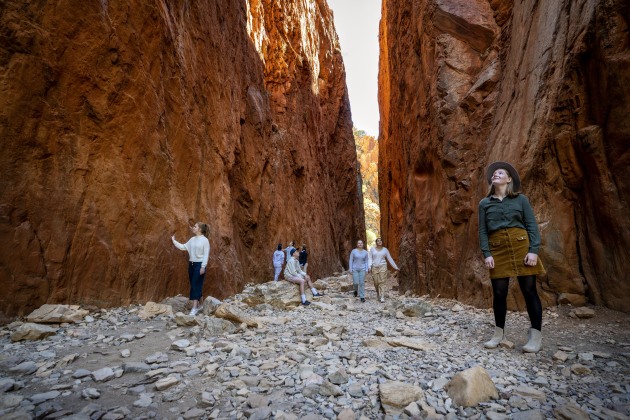 Students exploring Standley Chasm. Tourism NT/Shaana McNaught
Day Trip 1: Section 3: 'Angkerle Atwatye - Gap of Water' (Standley Chasm)
Options from 2.4km wheelchair accessible to several hours of ridge tackling goodness.
Entry fee: $10-$12 pp, camping extra (powered, small sites) T: (08) 89567440
The gorgeous vistas surrounding the sacred women's dreaming place of Angkerle Atwatye (Standley Chasm) will knock your socks off, especially if you're into some steep, good old fashioned 'Type A' fun.
Enjoying the colours at Standley Chasm. Tourism NT/Salty Aura
There are a few different options, but my favourite is to go halfway along the Chasm trail, then tear up the hill on the Larapinta Section 3 until you burst out into magnificent 360-degree views.
Go as far further as you feel like before heading back for a long lunch and a quiet siesta. The centre has recently been taken back over by the traditional custodians who have introduced a GF/vego friendly menu and wheelchair facilities.
If you can nab yourself a spot on the immersion tours (book online: discovercentralaustralia.com) it's a real treat.
Exploring the Ochre Pits. Tourism NT/The Salty Travellers
Day Trip 2: Section 9: Ochre Pits to Inarlanga Pass
8km/2hr return, moderate, some scrambling in the gorge, 110km west of Alice.
The Ochre Pits are a popular stop, only 300m from the picnic area they're well worth a visit when the sun hits the rich colours in a blaze of glory.
If you fancy a walk while you're there, you can stroll 4km along well-made paths to a cycad-lined gorge, emerging through into a fairy tale meadow drenched in golden sunshine.
As you walk through Inarlanga Pass the mountains seem to split on every side – you really feel like you're in the mountains with scree and towering peaks on every side.
The Ochre Pits are a highlight of a Larapinta experience. ourism NT/The Salty Travellers
For more info on exploring the Red Centre click here.