If you're in southern WA and you fancy a dose of magnificent coastline head to Denmark where wonderful views and stunning walks await.
This is the second leg of the triangle of trails (see full story in Great Walks Aug-Sept 2023), a drive of 55km between Mount Barker and Denmark.
From Denmark we drive 29km to Parry Beach Campground on the edge of William Bay National Park. From Parry Beach, it's 19km by road to Elephant Rocks, bordering the sheltered waters of Greens Pool and the sweeping vista of William Bay.
William Bay Trail: Elephant Rocks to Waterfall Beach
Parking at Elephant Rock carpark, we start the recently revamped easy 2.5km one-way walking/cycling path. This section is part of the newly realigned Munda Biddi Trail, so we look out for mountain bikers. From Greens Pool to the recently constructed Elephant Rocks viewing platform, the pathway is sealed and suitable for wheelchairs. Beyond Elephant Rocks, it becomes a trail for walkers and cyclists.

Firstly, we take a short easy detour and clamber onto a smooth granite headland. There are stunning views overlooking Elephant Rocks and the blue waters of the Southern Ocean. Back on the well-formed path, we meander through rolling coastal heath and often stop to admire crashing waves.
The walk continues past Madfish Bay carpark, which was temporarily closed at the time for trail works. Pushing on, we descend to Waterfall Beach. It is a short walk on soft white sand to a delightful waterfall that drops a few metres over weathered limestone rocks. It then carves a channel that empties into the ocean. Retracing our footsteps, we head back to Elephant Rocks.
WOW Trail (Wilderness Ocean Walk)
The next day, we drive to Lights Beach just beyond Waterfall Beach. We start from the well signed trailhead at the Lights Beach carpark. There is a terrific view of Lights Beach, where happy dogs frolic in the shallows while big swells rise out of the Southern Ocean. The sealed undulating trail is 6.2km one-way in length and ends at the Denmark Community Wind Farm.


A few decent hills get the old ticker pumping a bit harder, but it's not too strenuous for most reasonably fit walkers or cyclists. As the sun peeps out from behind fluffy clouds, we stop at several viewpoints overlooking the spectacular coastline. From these higher spots, the trail dips into densely vegetated sways that offer protection from the wind.
Being that it's late autumn, we didn't see many wildflowers although spring would be an entirely different matter. The walk finishes under 50m high wind turbines which supply over half Denmark's annual power needs. You can take your dog on this walk as long as it is on a lead.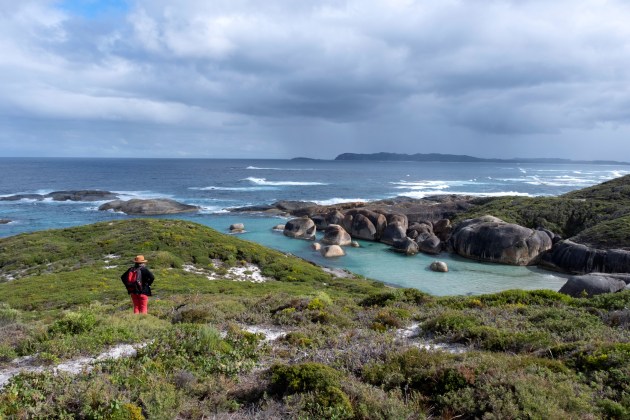 For more info click here.
Words and photos_Jane and Michael Pelusey