The new 27km Tomaree Coastal Walk on the NSW Hunter Coast has officially opened and ready for visitors to experience walking the spectacular coastline in Tomaree National Park.
The Tomaree Coastal Walk is the latest NSW Great Walk developed and opened by the NSW National Parks and Wildlife Service (NPWS) and offers a great multi-day walking adventure in the heart of Port Stephens.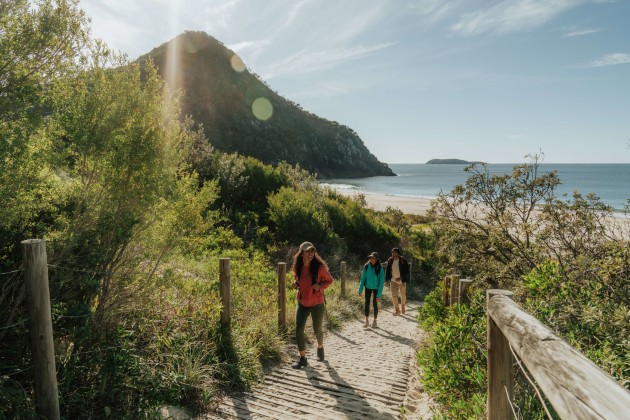 Located on the traditional lands of the Worimi people, the Tomaree Coastal Walk traverses an ancient volcanic landscape rich in culture and nature, starting at Tomaree Head at Shoal Bay and finishing at Birubi Point Aboriginal Place at Anna Bay.
The track weaves along the stunning coastline of the national park guiding walkers over lush coastal headlands, across rock ledges and through angophora forests, before arriving at the southern hemisphere's largest mobile sand dunes at Worimi Conservation Lands.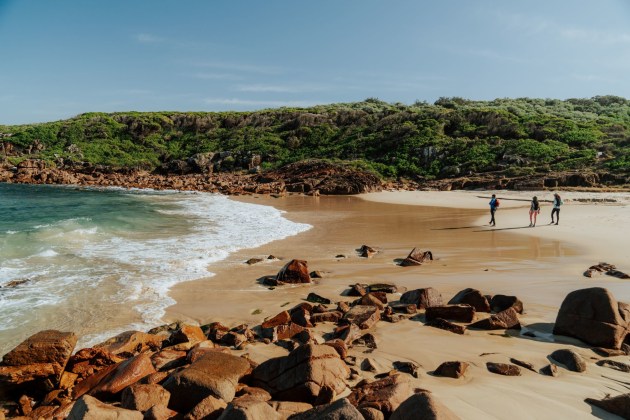 Walkers will be treated to breathtaking scenery including panoramic ocean views from new lookouts, sparkling beaches and coves, unique rock formations and an abundance of flora and fauna including birds, dolphins and seasonal migrating whales.
The multi-day walk is best experienced as a 2-day walk (or 3-day walk for those wanting a more leisurely pace), with a range of accommodation options available at local coastal villages.
Visitors can also complete shorter sections of the track including half-day or full-day walks in either direction, with many suitable entry and exit points along the route.
As part of the $6.7 million Tomaree Coastal Walk project, NPWS upgraded existing walking tracks, built new linking track sections and lookouts, upgraded and developed new visitor precincts at the northern and southern trailheads, improved carparking and enhanced the iconic Tomaree Head Summit walking track.
The walk also features new engaging signage and digital storytelling to provide visitors with opportunities to learn about the park's cultural and environmental values, as well as stunning new artwork at Birubi Point Aboriginal Place celebrating the ancient heritage of Worimi Country.
Great Walks recently completed the walk and you can read all about it in the Oct-Nov issue out next week!
For all info on the Tomaree Coastal Walk click here.