Experiencing Coastrek's positive effects
In part two of our two-part story on walking charity event Coastrek (read part one here), Laura Waters finds great satisfaction in challenging herself for a greater good.
Words_Laura Waters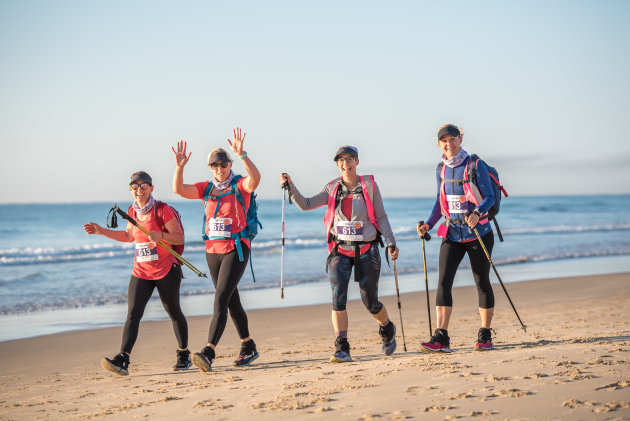 When Melbourne's 2020 'virtual Coastrek' (i.e. walk the specified distance on a route of your own choosing) finally ran, I was interstate and away from my team. To meet my commitment to sponsors I would have to walk my first event alone.
I chose a simple route – the 40km Lilydale to Warburton Rail Trail that follows the path of a historic railway line through Victoria's Yarra Valley. Not coastal, but at least I wouldn't risk wasting precious time and energy on navigation. The plan was to walk it out and return half way.
I set off on a misty morning from Warburton, a quaint little township on the Yarra River, dotted with soaring eucalyptus and golden poplars. The trail glides through a remarkably beautiful and changing landscape of forests and farmland, past horses, cows and gang-gang cockatoos cracking seeds in trees. At 10km I was putting a few jogs in, at 20km finding my rhythm. At 30km I was starting to hurt, and conscious that I was only half way!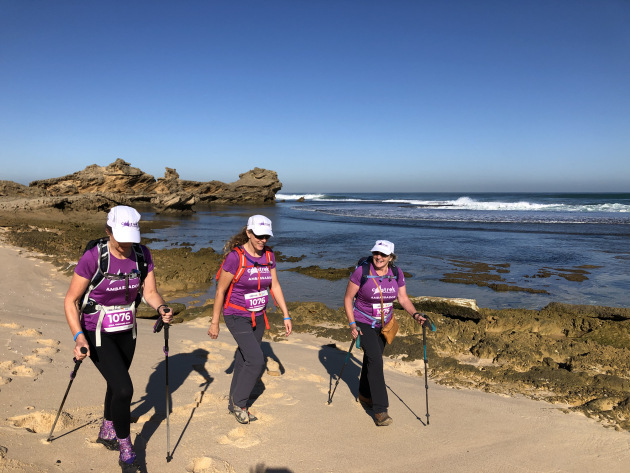 With feet grumbling, I received a call from an ever-enthusiastic Di Westaway, Coastrek's founder, asking "Hey! Do you want to do 2021 Coastrek?" only a few months away. Er, ask me later. The last 20km were tough yet beautiful; the late afternoon sun casting an entirely different glow on land I'd walked earlier in the day. By the time a friend whisked me off the track after 12 hours, the soles of my feet were almost numb.
The official Coastrek event on the Mornington Peninsula a few months later couldn't have been more different. There was a festival vibe in the air, music pumping, cowbells clanging, flags waving and the positive group energy of nearly 4,000 trekkers preparing for a walk that would do good not only for them but Beyond Blue and those they support.
We were lucky to score perfect weather – cool and sunny, the ocean sparkling. So soon after my 60km epic, I opted for 30km instead and it flew by in a haze of golden beaches, winding sandy tracks across coastal heath with views across the sea, and friendly chats with complete strangers.
The community energy somehow multiplies everyone's stamina tenfold. "There are highs and lows on a challenge like this but the best thing is the camaraderie," says Ann. "Everyone talks to everyone and it is quite amazing the people you meet and the stories you hear. It's the human spirit at its best."
Crowds cheered our arrival as we walked back into Point Nepean just as the lowering sun sent a pink wash across the sky. We collected our achievement medals and a glass of champagne and lounged on the grass to bask in satisfaction.
Many trekkers go on to take part in events in other states: Sydney's eastern beaches or Brisbane's neighbouring Sunshine Coast. Adelaide runs its Coastrek on the Fleurieu Peninsula and the new Perth event is taking place around Margaret River. That's a whole lot of kilometres worth exploring.
If walking and feel-good vibes go hand in hand, Coastrek and its affiliation with Beyond Blue is a match made in heaven, but aside from the obvious benefits, it also helps break taboos. Having lost her friend to suicide, Georgina says she can't emphasise enough how important it is to have conversations about mental health. "You can ring up Beyond Blue anytime and get fantastic support, and their online resources are easy and concise."
For Peta, Coastrek has ignited a passion for hiking and her growing to-do list of walks includes the Thorsborne Trail, Overland Track and Kokoda Trail. "Walking has put a little happy pill in me, a spring in my step," she says. She's grateful to Beyond Blue for initiating her turning point and now is inspired to pay it forward and help others. "When people think there's no way out, knowing there's a phone number there can make things easier."Ann sums it up: "A trek is like life. There are high points and low points and surrounding yourself with the right people is key to reaching the peak. Coastrek has taught me to be gutsy when I'm uncertain, it's taught me that I can do things I never dreamed I could do. It's taught me that I'm not a middle-aged, average woman but that I'm strong and that I can make a difference to so many people."
Coastrek is held annually in Sydney, Melbourne, Brisbane, Adelaide and Margaret River. Event distances are 30km or 60km (Melbourne and Sydney also offer 45km). coastrek.com.au