Tony Sharley owner of Murray River Walk tells Great Walks how recent floods are bringing new life to Australia's most famous river.
"Here on Murray River Walk in South Australia, we've experienced the largest flood in 66 years. As the river rose before Christmas it slowly spilled over banks and onto the floodplains creating a 10km-wide river that was spectacular to see from the air and wonderful to explore in boats cruising through forests that are normally dry.
Wildlife irrupted. New life was everywhere. We saw fast swimming broods of ducklings darting after water striders on the surface, yellow-billed spoonbills nesting on branches leaning out over the swollen river, and the constant call of sacred kingfishers that enjoyed the boost in food and perfect breeding conditions.
Tadpoles were busy along the shallow waters at the edge of the floodplain. Yabbies were a feast for egrets, herons, and humans.
The water levels have now receded, and riverbanks can be seen again. Like a blower on a leafy street, the fallen leaves have been washed away and the floodplain floor is clean with a new spread of sand, silt, and clay across the floodplain.

These new seed beds are quickly sprouting tiny redgums, wattles, and early colonising forbs and sedges.
There is a new mark on every tree showing the height of the flood, that will start a conversation about when and how this happened, what are the benefits, how long will they last and when will it flood again?
Over the next 12 months our guides will have the opportunity to share that conversation with our guests as we witness the new plant growth and birdlife that responded to the 2022/23 flood."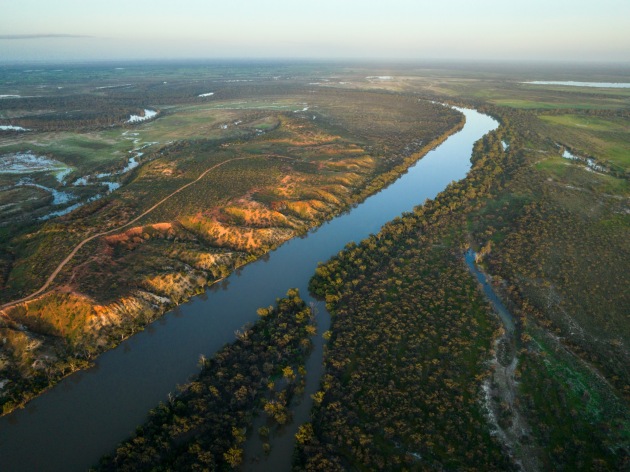 Murray River Walk itinerary:
Day 1: Renmark to Headings Cliffs
Day 2: Headings Cliffs to Chowilla Creek
Day 3: Chowilla Creek to Bunyip Reach Cliffs
Day 4: Bunyip Reach to Renmark
For more info on Murray River Walk click here.