Mount Sonder offers the ultimate sunrise walk
In the second part of our three-part Larapinta Trail special (click here for part one) we showcase one of Australia's best sunrise walks, up Mount Sonder, and one of the Red Centre's most underrated natural wonders, Ormiston Pound.
Most of us just don't get the chance to be somewhere so ancient, so quiet, with some much bright empty space around us, ever. Well, these two walks on the Larapinta Trail will give you all that and so much more!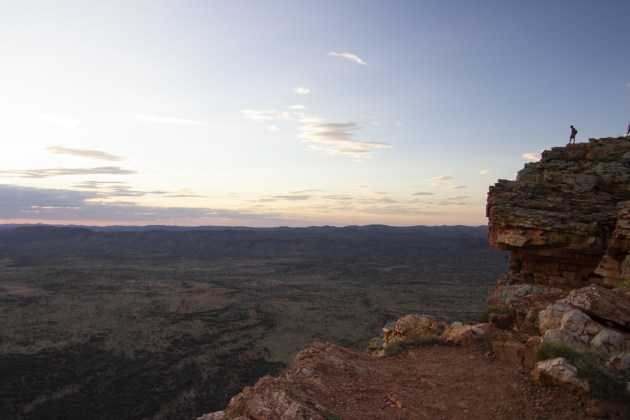 Alice Springs surrounds as seen from above: Tourism Australia/Allan Dixon
Overnight Option: Section 12: Mount Sonder/Rwetyepme
15.6km return, 6-7 hours, moderate to hard.
Start and finish at Redbank Gorge Carpark, 5km off the bitumen (can be rough so allow time to walk from the car), 156km to Alice. Camping available. Headtorch and hiking poles a must.
It's best to camp overnight so you can get up early enough for the walk to the summit to catch the sunrise. For most folks, including almost all tour groups, you get started at 3.30am, (having made sure to check the way out the night before). It's an eerie experience, hitting warm and cold pockets of air in your little bubble of light.
You won't see much on the first half if you're chasing the sunrise but watching the valley wake from its nightly slumber in ribbons of pastels, finally blazing into the day with fiery reds and oranges is just reward. Crack the Thermos, dip the Tim Tams, find a nice rock (or person) to snuggle into and let your jaw drop.

Exploring the West MacDonnell Ranges: Tourism Australia/Nicholas Kavo
The second option of going for the sunset 'golden hour' is also great and often missed. The light turns syrupy as scarce birds and animals come out to play, basking on the warm rocks in the relative cool of the evening. Note – the summit is one of the few places camping is not allowed.
Redbank Gorge itself is a 1.5hr return walk in the other direction, and well worth it, especially if you skipped Ormiston.

A couple taking a dip at the Ormiston Gorge: Tourism NT/Jesse Lindemann
Day walk: Section 9: Ormiston Pound Gorge Walk
Length: 8km Loop, moderate to rocky. Be prepared to wade after rain. 3-4 hours
8km from main road, 1.5 hrs from Alice Springs. Call (08) 8956 7799 to check road conditions.
This is one of the best day walks in Australia, hands down! Undulating hills climb to fabulous views across the natural bowl of the pound, where Glen Helen Station's cowboys used to corral their herds in decades past.
As the track swings you closer to the mouth of the gorge the sheer cliffs unfurl in full force, red and white stripes, black gashes and deep, blocky reds. It seems all life is here, flirting around the waterholes or watching lazily over it from impossibly small cracks. Wander slowly, watch your feet and drink in the splendour, at the end you'll find a permanent, cool water hole with sandy banks just waiting for your tired bones.

Ormiston Gorge and Pound: Tourism NT/Shaana McNaught
You can buy food and camp overnight (for a fee) near the visitor centre, and there's a shorter walking option (Ghost Gum Walk) if you're really stretched for time (1.5hr).
For more info on exploring the Red Centre click here.