Beat the winter blues on the Larapinta Trail
In part three of our three-part Larapinta special (click here for parts one and two) we showcase two glorious overnight walking options.

The walk along Counts Point. Photo: Brent McKean
Section 8: Counts Point return: Serpentine Gorge carpark to Counts Point Junction: 3hr/6.7 km. Counts Point Junction to Counts Point return: 30min/1.4 km
16km, 7-8 hours, moderate with hard climbs.

Counts Point is a sight to behold. Photo: Brent McKean
Start and finish at the Serpentine Gorge carpark trailhead, 100km from Alice, not suitable for caravans.
Magnificent views, a feeling of isolation, an incredible sunset and a complete sense of peace await after a long climb. You feel like you're literally on top of the world here, that it's just you and the rocks and it could be a million years ago. It's one of my favourite places in the world. The ghost gums, the quiet roar of silence, the sheer slices of red rock clawing their way from the dusty soil, the stars…
If you are overnighting, leave plenty of time for the walk up, camp on top and watch the valley fall through a rainbow of colours on its way to black.



Cooling off in Ellery Creek. Photo: Tourism NT/Matt Cherubino

Section 6: "Udepata", Ellery Creek Big Hole Lazy Day + Dolomite Loop
Length: 3km for loop, 1.5hr, moderate, some steep bits.

Start and finish at the Ellery Creek Big Hole - call ahead to check the road is open, it's been closed for sealing over summer. Toilets, no cafe, camping for a fee.
Best for: Bigger groups/ families/ special needs walkers/differing wants in the group or just as a day trip with a swim.
This is the spot to go if you'd like a little taster, but also space for everyone to stretch out and swim. The permanent water makes it a special meeting place for the Arrernte people, on the fish and honey ant song lines. There's a beautiful 3km Dolomite walk that is great either before a swim or as a romantic stroll in the beauty and cool of the evening. The hole itself is chilly at any season, but the area around is a wonderful shady spot to lounge around and let your worries float off into the evening breeze. Watching the sweaty thru hikers sigh with delight at the sight of their first wash in days, then squeal with horror at the cold, is just a bonus. They've just added some longer walk options to the area surrounding Ellery Creek too, so check them out if you'd like something meatier.

For more info on exploring the Red Centre click here.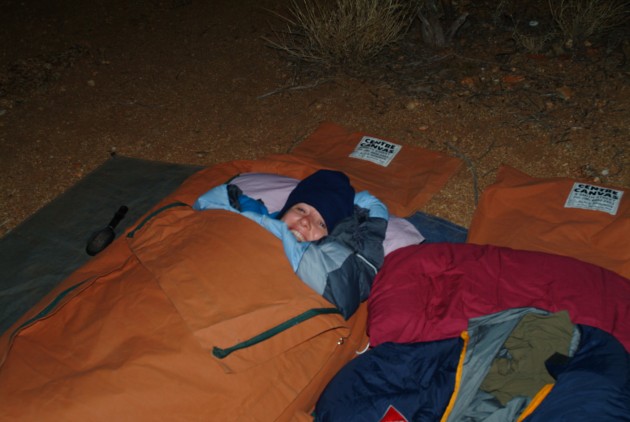 It's fun under the stars on the Larapinta Trail. Photo: Brent McKean