ABOUT WILDERNESS PHOTOGRAPHER OF THE YEAR
ABOUT WILDERNESS PHOTOGRAPHER OF THE YEAR 
Great Walks' Wilderness Photographer of the Year, presented by Mountain Designs, is looking for breathtaking images of the Great Outdoors.
Now in its third year, the competition is open to Australian and New Zealand photographers and offers a prize pool of more than $12,000, including $5,000 cash and $7,000 in prizes.
Images can be captured in wilderness areas anywhere around the world and the best images, including Winners, Runners-Up and the Top 10 in each category will be featured in Great Walks magazine (February-March 2024), and at www.greatwalks.com.au



WHO CAN ENTER?
Wilderness Photographer of the Year is open to citizens and residents of Australia and New Zealand. A resident is defined as a person who has lived in Australia or New Zealand for at least six months at the time of entering this competition.
WHAT IS WILDERNESS?
For the purposes of this competition wilderness is defined as a natural environment that has not been significantly modified by human activity. However, images that show the effects of human impact on the natural environment may be entered in the competition, in the context of illustrating the fragility or resilience of the natural world.
ELIGIBLE IMAGES
Images must have been captured on or after 1 January 2021. Images must also be single capture (not a composite of several images). 
PREPARING YOUR IMAGES FOR ENTRY
Images must be saved in the JPEG or PNG format, and should be at least 2,500 pixels on the longest edge. Overall file size must be less than 5MB. Do not add watermarks, branding or text to your images.
THE CATEGORIES
There are two categories in Wilderness Photographer of the Year, Places and People.
PLACES: Panoramas and dramatic horizons, spectacular coastlines, photogenic mountains and inspiring wilderness scenes! In this category your images should not include people in the frame.
PEOPLE: Your best wilderness photos with people in the frame – the ones you meet on the trail, the rangers and wardens, the guides and the friends that share your adventures here and overseas.
If you're unsure which category to enter, send us an email at photocomp@greatwalks.com.au
PRICING
$30
All prices in Australian dollars and include GST.
DEADLINES
Entries close 11.59pm AEDT, Sunday 22 October 2023.
IMAGE EDITING
In post-production you can adjust 'photographic' variables such as exposure, contrast, colour, noise and sharpness. Lens and perspective corrections, cropping and black-and-white conversions are also allowed.
Composite images are not allowed. Cloning to remove distractions or add new elements is not allowed. 
Competition organisers reserve the right to disqualify an image if they feel it lacks authenticity due to over-manipulation.
JUDGES
Wilderness Photographer of the Year will be judged by leading outdoor and wilderness photographers Ryan Domenico, Stephanie Vella, Mike Edmonson and Julie Fletcher. Find out more about the judges here.
PRIZES
Winners and runners up will share in a  prize pool valued at $12,000, including $5,000 cash. Find out more about the prizes here.
RECOGNITION
Winners and runners-up will be revealed in Great Walks magazine (February-March 2024 issue), as well as on greatwalks.com.au and Great Walks' Facebook page.

Top 10 images in each category will also be showcased in Great Walks magazine (February-March 2024 issue) along with a selection of judges' comments.

Also in February, Winners, Runners-up, Top 10, Top 20, Highly Commended, and Commended photographers will be notified via email with a certificate confirming their placing in the competition.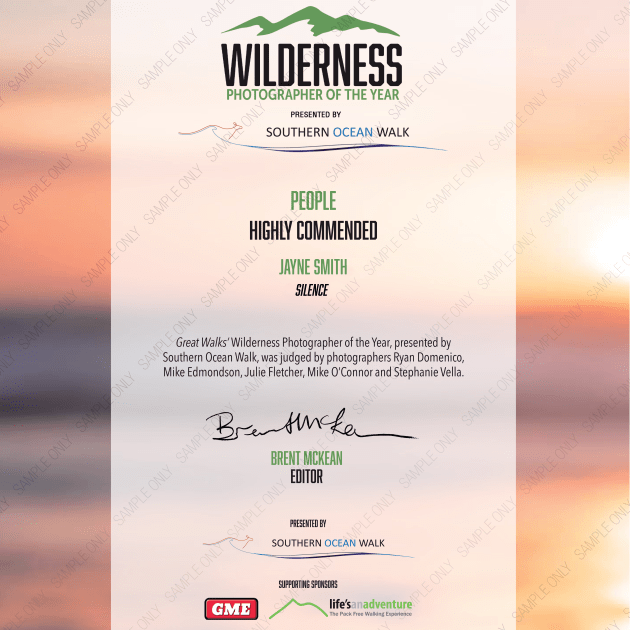 NEED HELP?
If you need help uploading your entry send us an e-mail explaining the problem and we'll do our best to fix it for you.
TERMS AND CONDITIONS
CONTACT US